Bricklayers Insurance
Get Fast, Easy, Affordable Insurance for Your Bricklaying Business
Business Insurance for Bricklayers
Public Liability Insurance
Public liability Insurance for bricklayers is needed to protect yourself in case of an accident. This insurance will help you cover all the expenses related to the accident (damages or injuries, lawyer fees)
Tools Cover
If you are a bricklayer, Tool Cover is essential. It protects you in case your tools are lost, damaged, or stolen. Make sure you have complete financial protection to avoid using your own costs on repairs or replacements for all your tools.
Personal Accident and Illness Insurance
If you sustain a sudden injury or illness, and can't work for a while, you'll need financial protection. As a bricklayer, your income is your livelihood. Without it, you won't be able to cover your expenses.
Fast, Easy Insurance
We can help you find the right insurance package for your work and potential risks. Rest assured, we provide high quality insurance at a competitive price, and our dedicated team have the right industry experience to ensure you're protected.
For bricklayers, contact All Trades Cover today for an easy quote!
– Competitive premiums
– Easy monthly payment options
– Free legal advice

Are You a Contractor or Sub-contractor in Bricklaying?
After over 20 years insuring bricklayers all over Australia we have developed a product specific to the industry. Our product combines Public Liability and the option of Tool insurance without some of the exclusion you can find on our competitors' policies which essentially can render them null and void in the event of a claim.
Flexibility in payment options, not hidden fees and charges, and simple to buy cover online. That's what makes us the fastest growing online insurer of tradesmen in Australia.
Why Choose
All Trades Cover
The key to the strength of any structure is its foundations, and your bricklaying business is no different. An integral part of that structure is your insurance protection. Public liability cover protects you against property damage and physical injury that may be caused in your line of work and there is no quicker and easier way to get cover than through All Trades Cover.
Within seconds you can have a competitive quote and minutes later you can have your cover with a Certificate of Insurance in your inbox. It's that simple.
Get a quote now and see how we compare.
Don't risk it! Get a public liability insurance quote now!
It takes just minutes.
Your business can be protected for up to $20,000,000
You can buy online.
We can insure your tools too!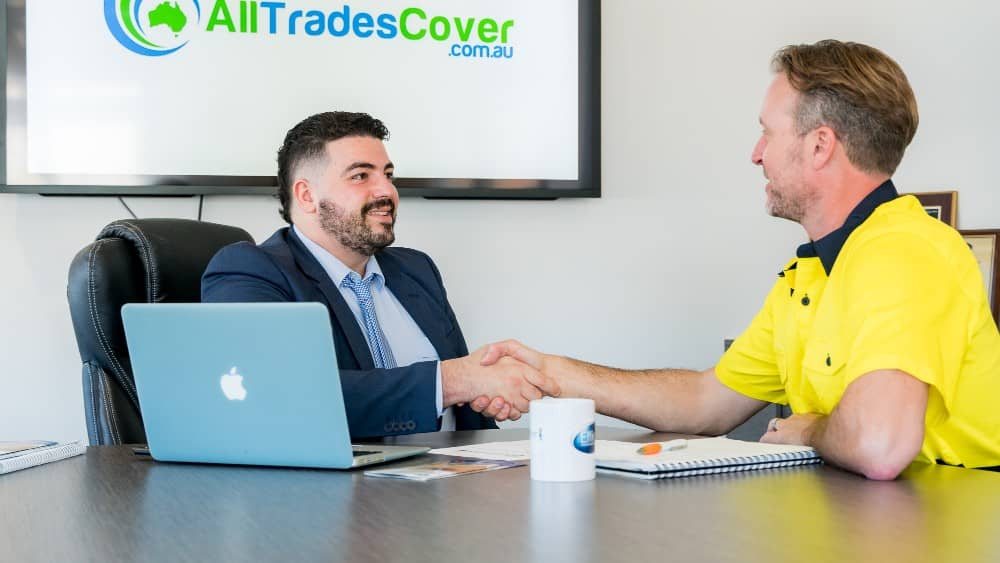 You Are in Good Company
Trusted by Tradies All Over Australia.
Just want to quickly say that Haylee from the WA office is absolutely amazing! When the VBA stopped us at every turn trying to renew my partner's licence Haylee went above and beyond with stay back late to countless back and forth emailing until the VBA were satisfied. Props to you Haylee, you don't get customer service like that anymore!
FAQs
Bricklayers insurance covers property damage, contract breaches, injuries, and issues of public liability for trade projects and the people involved in them. However, not all policies provide for these issues. As such, you should make sure to carefully consider the different insurance policies and their prices to determine if they are competitive. You may need specific types of insurance for certain projects or for each year that you work on a project. Some of these types of insurance are required by law, depending on your state and the nature of your work project.
Public liability insurance is a standard requirement for your bricklaying business, and it's something you should take out to protect yourself if you're going to be working near members of the public. This coverage covers your legal fees after accidental injury or property damage from third parties, including members of the public.
Contract Works Insurance for Bricklayers. Many construction projects require builders to take out a standard insurance policy, which includes coverage for damages from unforeseen circumstances such as floods, theft, and fire. This can be a great source of peace of mind for builders who are worried about possibly being held responsible for losses that were not their fault.