TV Antenna Installers Insurance
Get Fast, Easy, Affordable Insurance for Your TV Antenna Installers Business
TV Antenna Installers Insurance
Whether you're a one man band or part of a national franchise like Mr Antenna, Satpro or Jim's Antennas we've got the cover that's right for you.
Business Insurance for TV Antenna Installers
Public Liability Insurance
Public liability Insurance for TV Antenna Installers protects you from property damage and from any personal injury caused to another person. Claims can cover costs associated with repairs and replacements, and if a lawyer is required it will also cover the legal fees. It wouldn't take much for third parties to injure themselves or for accidental damage to occur to a customer's property. Protect your business financially today!
Tools Cover
Tool Cover is essential for your TV Antenna Installer insurance package. If your tools or equipment is lost, damaged or stolen, this policy protects. Ensure you have complete financial protection while you are onsite to avoid using your own costs on repairs or replacements for all your tools.
Personal Accident and Illness Insurance
When a sudden injury or illness occurs and you are unable to work it can be hard financially. As a TV Antenna Installer you rely heavily on your income and following an accident or illness, if you are covered this will ensure you receive a portion of your income. Let yourself recover while you are protected financially.
Fast, Easy Insurance
We understand the process of insurance for TV antenna Installers and want to make it quick and as easy as possible. At All Trades Cover, our brokers will help you find the right insurance package for your work and potential risks. You can rest your mind knowing that we provide high quality insurance at a competitive price and our dedicated team have the right industry experience to ensure that you're protected.
For TV Antenna Installers Insurance, contact All Trades Cover today for an easy quote!
– Competitive premiums
– Easy monthly payment options
– Free legal advice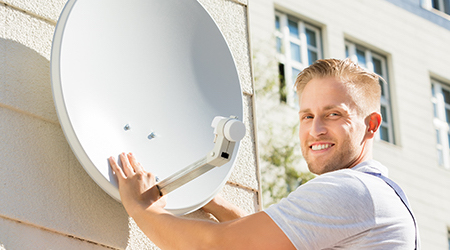 Why Choose
All Trades Cover
Our prices are some of the best around and our service is top notch. But best of all, we're the easiest – click that button below to find out more about our insurance packages. You can buy it online in just a few minutes with a price that is all inclusive.
And we'll even insure your tools. Yeah, we're pretty amazing.
Are you a contractor or sub-contractor in
Any of the Following Fields?
TV Antenna Installation
TV Antenna Maintenance
TV Antenna Tuning
Accidents can happen. And they can be expensive! The right insurance cover can keep you afloat and doing what you do best.
All Trades Cover is known by tradesmen across Australia as the trades insurance experts. We've got over 20 years experience and our sole focus is helping tradies.